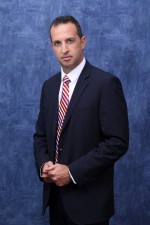 The Managing Director of Knaggs Developers Ltd, Marcus Knaggs has managed the development and construction of extensive commercial and residential projects in Trinidad and the Caribbean region for many clients, including Samsung, Microsoft, Atlantic LNG, PCS Nitrogen, Bryden pi, and the Queen's Park Cricket Club among many others. Mr. Knaggs' other business interests include the publication of the Trinidad and Tobago Energy Guide.
Holder of a BSc Mechanical Engineering from the University of Edinburgh, Scotland and a Postgraduate Diploma in Management Studies from Robert Gordon University, Scotland, Mr. Knaggs is a member of the Association of Professional Engineers of Trinidad and Tobago, the Trinidad and Tobago Chamber of Commerce and the Energy Chamber of Trinidad and Tobago.
Apart from his professional accomplishments, Mr. Knaggs was a member of the Trinidad and Tobago National Rugby Team from 1997 – 2003, being named the Trinidad and Tobago Rugby Union Player of the Year in 1998. He was also part of the 2001 Caribbean Championship Winning Team.