The Trinidad & Tobago National Petroleum Marketing Company Limited (NP) has joined the collective fight against COVID-19 by doing more to support households, frontline workers, low-income families and the elderly in meaningful and tangible ways. In addition to the proactive measures taken throughout its Service Station network to
minimize the spread of the virus, NP's COVID-19 relief activities range from food hamper distribution, free gas cards for healthcare professionals, free Liquefied Petroleum Gas (LPG) exchanges for vulnerable senior citizens and the waiver of refuelling costs for the flight to bring medical personnel from Cuba to T&T.
NP has scaled up its relief operations to respond to the diverse needs of those impacted by the COVID-19 pandemic in the following ways:
Distribution of 20lb Gas Cylinders to Senior Citizens – armed with a list of vulnerable individuals provided by the Ministry of Social Development and Family Services, NP GAS has begun facilitating the delivery and exchange of empty 20lb LPG / Cooking Gas cylinders for FREE full ones, for more than 1000 senior citizens across Trinidad and Tobago, free of charge. The need to self-isolate, to keep safe has deprived many seniors of their level of independence and freedom
of mobility. Being housebound, many who live alone are restricted in their ability to replenish much-needed supplies and this initiative is NP's way of helping, while keeping them safe.
 Distribution of FREE Gas Cards – in recognition and appreciation for healthcare workers and supporting staff, free gas cards will be given out in the coming week to deserving employees identified by the Regional Health Authorities (RHAs), namely the North-Central RHA, South-West RHA, North-West RHA, Eastern RHA and the Tobago RHA. Traditional frontline healthcare workers play a critical role in this crisis and are to be praised for their courage and commitment. But there are many other deserving staff in administrative roles and support services who represent the full spectrum of services across all health facilities at the RHAs. In expressing his gratitude for the kind gesture, Dr. Brian Armour, CEO, South-West RHA applauded the tireless efforts of RHA staff to "ensure a sanitized and clean environment, support patient care and mobilize personal health, equipment and consumable resources quickly to support frontline efforts" and he acknowledged that they are "all deserving of any support and recognition for their efforts."
 Donation to the Foundation for the Enhancement and Enrichment of Life (FEEL) – NP has begun to work with FEEL for the purchase of relief food hampers for distribution to civil society organisations in need, including Forecourt Attendants and other Service Station personnel who are braving the outbreak.
 Waiver of refuelling costs for flight to bring Medical personnel from Cuba –the cost of 21,274 litres of Jet A-1 fuel was waivered to facilitate the flight that transported medical personnel from Cuba to Trinidad and Tobago, to help in managing the COVID-19 pandemic.
NP has risen to the challenge to support families, frontline healthcare professionals and vulnerable individuals affected by this pandemic and will continue to work with trusted NGOs and our valued LPG Distributors to help people and communities cope with the unprecedented health, social and economic challenges produced by the pandemic.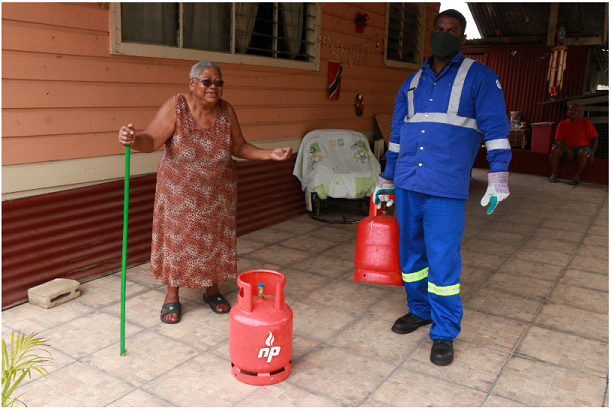 Offering A Helping Hand: an elderly householder receives a FREE NP Gas 20lb LPG Cylinder exchange delivered directly to her home from a representative of one of NP's LPG Distributors. This initiative
forms part of NP's relief activities to help those most affected by COVID-19.